As Fall Trimester 2015 commences, we would like to let everyone know how our projects are progressing.
The renovations for the Music Pocket Library and the USAO Museum are still in progress. The most significant change thus far is the wall dividing room 203 (on the north side of the main floor) in two: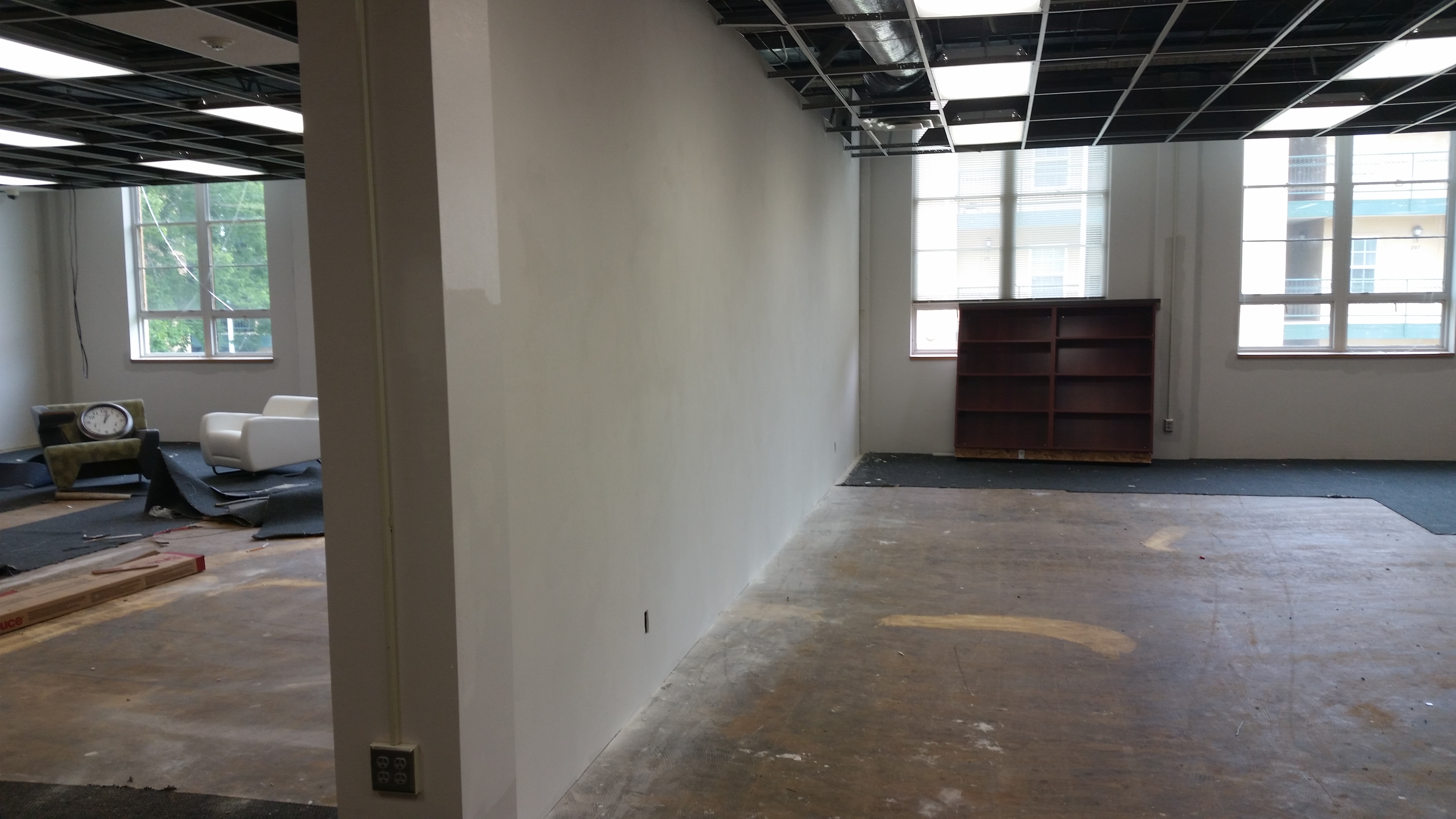 The left half will be the USAO Museum, and the right half will be the Music Pocket Library. The museum is going to be a place where we can display our 3-D artifacts, like the drum our alumna Te Ata used when she performed Native American stories, the violin of former music professor Louise Waldorf (the Davis-Waldorf Performing Arts Series at USAO is named in her honor), and antique living room furniture owned by Anna Wade O'Neill, who was instrumental in the founding of Oklahoma College for Women, USAO's predecessor institution.
The right half will be the music pocket library, which means it is a small library (a "pocket") within a bigger library. All of our music scores, music method books, and music history books will be moved here, as will our LPs, CDs, and DVDs of music performances. There will be playback equipment for the LPs and CDs and computers with music composition software. There will even be a small classroom-like space that can be used for small lecture classes or for group viewing or listening. There will also be study tables and chairs. The space will be open to all students, not just music majors.
Because room 203 is a construction zone, Course Reserves, which were previously in Room 203, are now in the lobby on rolling carts.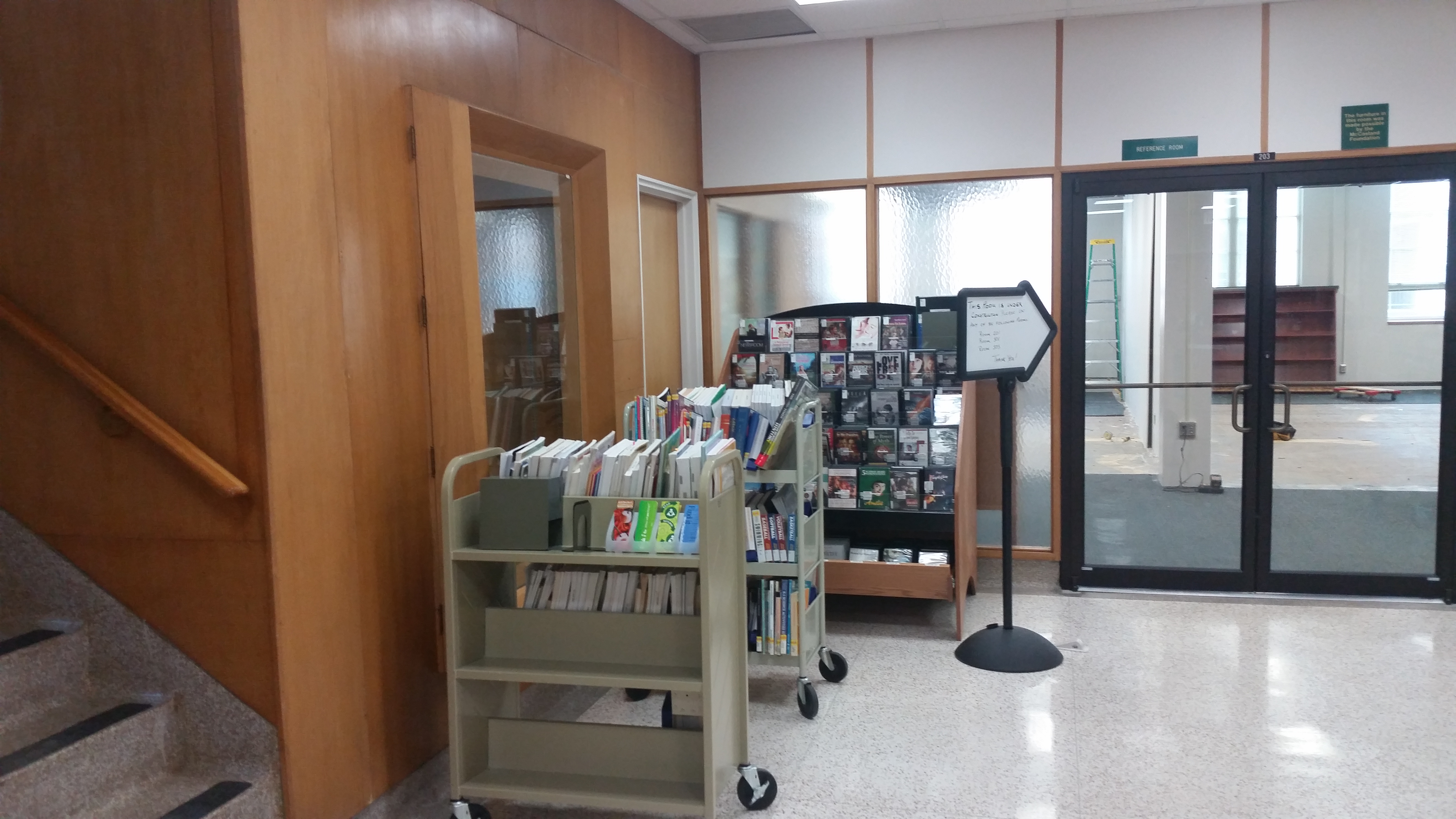 Likewise, the copier is now in the lobby next to the laminator.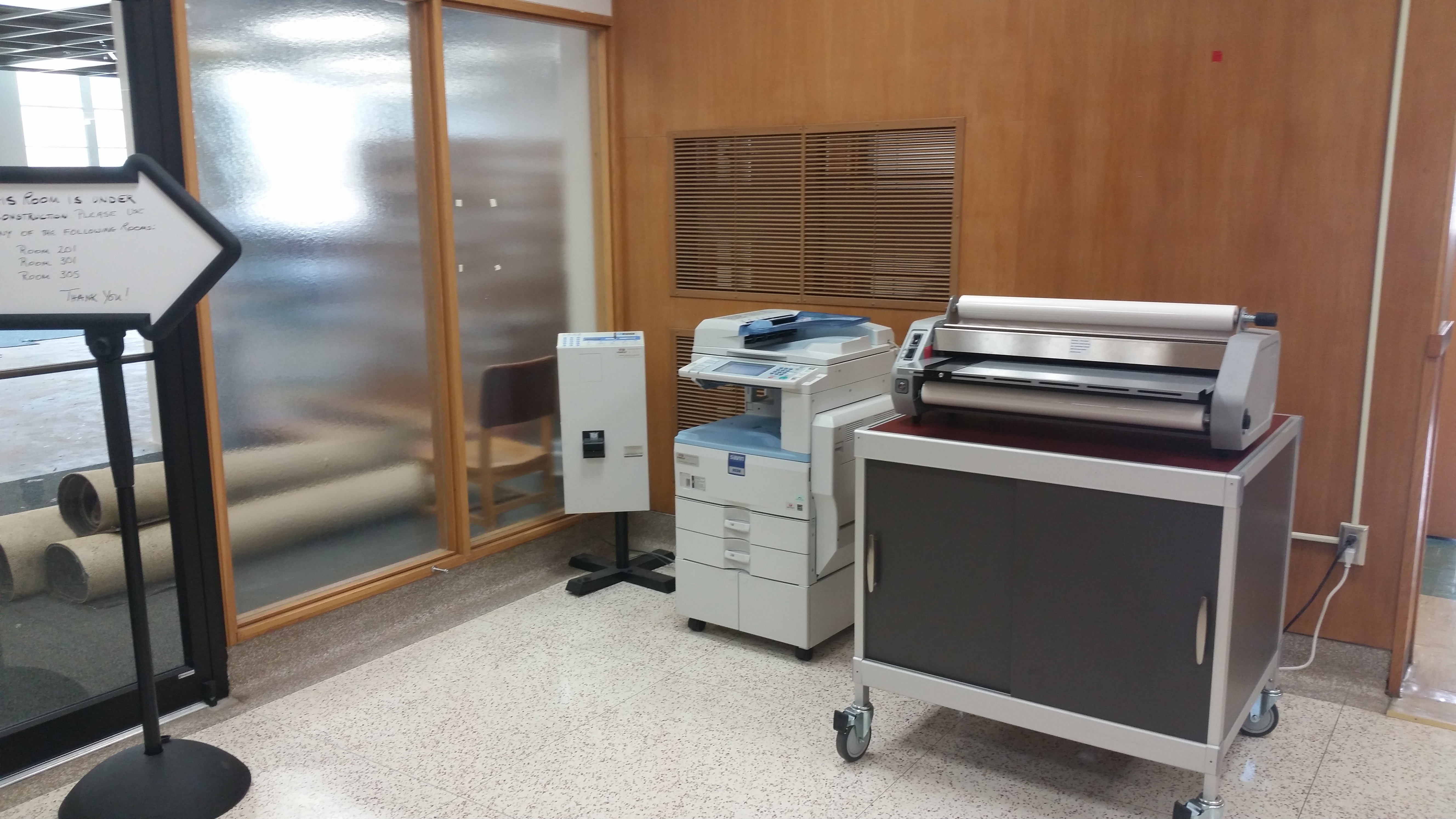 We have begun work on transforming the Poolaw Room on the south side of the library main floor into a Maker Space. The title Maker Space is actually fairly self-explanatory; it's a space where you make things. Eventually, we hope to have a nice mix of technology and physical materials: we plan to have Arduinoand Raspberry Pi computer boards, conductive thread (allows one to integrate electronics into clothing), a workbench with lots of tools, sewing machines, and more. The maker space is for everyone on campus to use, and we hope students from all majors will enjoy making things.
We have already moved our 3-D printer into the space. The 3-D printer works by laying down very thin layers of plastic, which it builds up to make a 3-D object.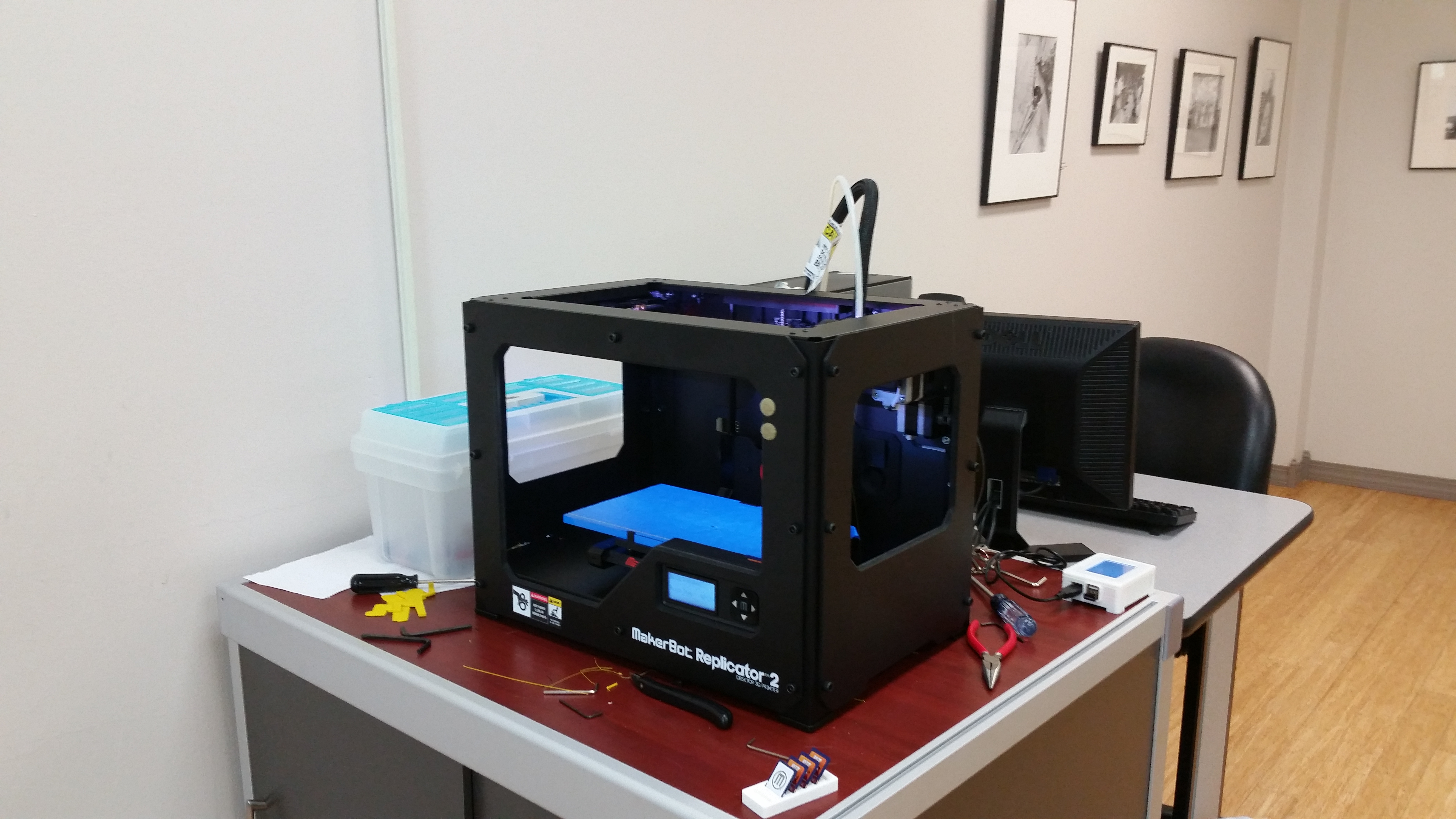 We added a display case to show off some of the different things one can make with the 3-D Printer.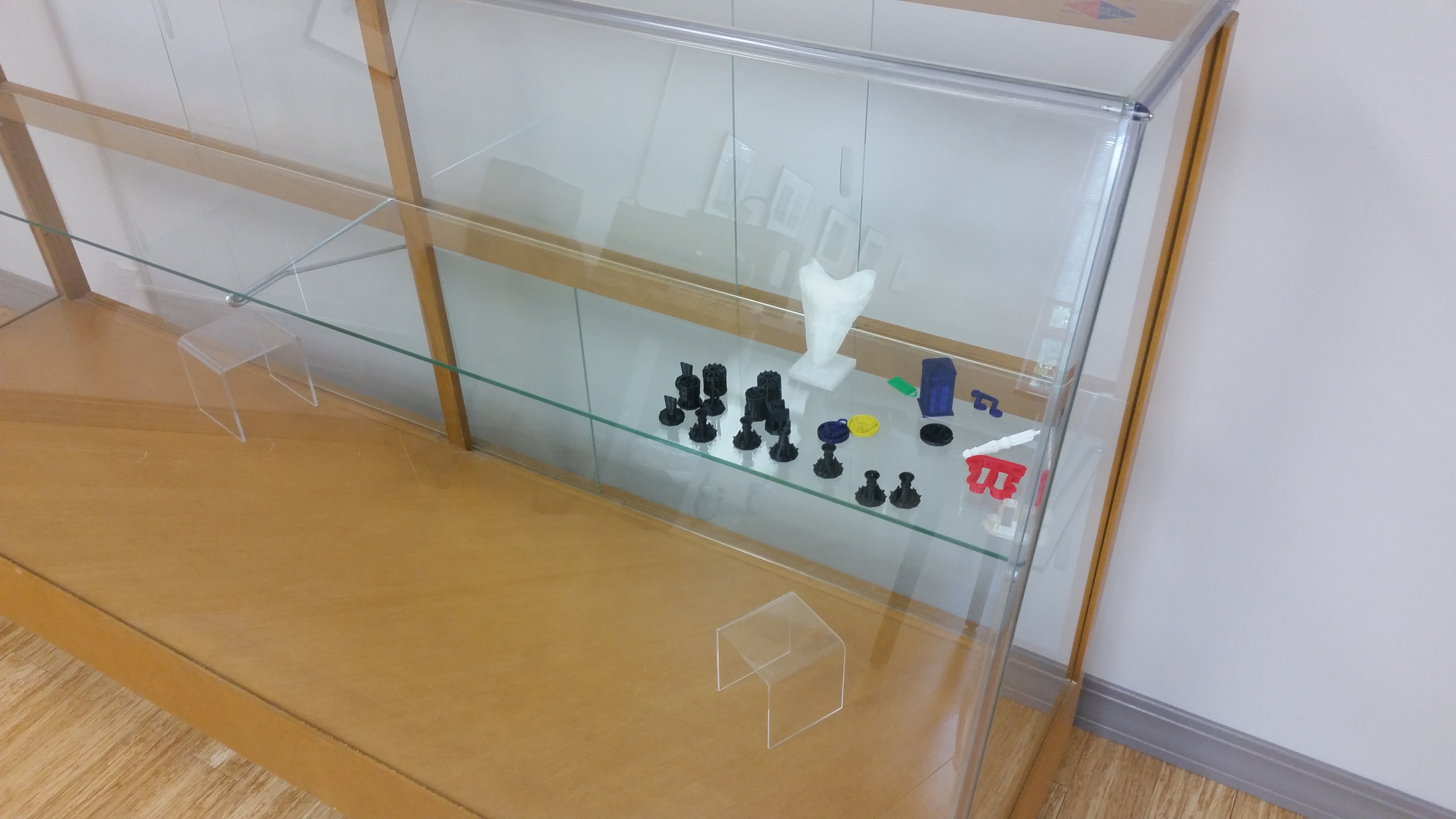 Thingiverse is a website where you can download free files for objects you can print with the 3-D printer. You can also see the objects other people have printed. Some things are useful, like containers, clips, phone cases, cookie cutters, and replacement parts. Others are just fun, like the shark's tooth and Tardis in our display case.